News:
USGS Releases Report on Perlite
World's Largest Liquid Nitrogen Plant Insulated with Perlite
900 Tons Expanded Perlite to Insulate LNG tank in Dominican Republic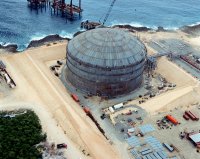 Chicago Bridge & Iron Company N.V is one of the world's leading specialty engineering companies. They were awarded a contract valued in excess of US$50 million to construct a turnkey liquefied natural gas (LNG) import terminal that will supply gas to an electric power plant being built in the Dominican Republic. The facility, known as AES Andres, will be owned and operated by AES Corporation of Arlington, Va.

The AES Andres facility, valued at US$340 million, will be located 30 km east of Santo Domingo and, when completed, will consist of a 300 megawatt gas-fired combined cycle electric power plant along with the LNG import terminal.

CB&I's work includes a 1 million barrel (160,000 cubic meter) LNG storage tank operating at approximately -260 deg.F [ -160 deg.C]. To operate at this temperature, the tank will be insulated with expanded perlite. Approximately 900 tons will be used.
Installation of the expanded perlite insulation is being carried out by Chicago Bridge & Iron's Insulation Betterment Center. Because of the large quantity of insulation required, the IBC group will use specially designed portable equipment by Incon Corporation to expand the perlite on site and pump it into the vessel.
Pictures of the construction can be seen by clicking on the link located at the bottom of the page.

Photo's of the construction