First LNG facility in Canada Insulated with Expanded Perlite
Furnaces: Incon I-22 (vertical portable)
Product: Cryogenic Perlite
Location: St.John, N.B. CANADA
By: Arthur D. Anderson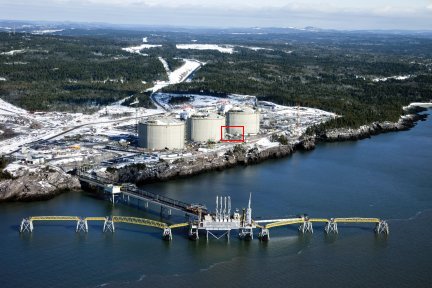 Canaport LNG facility in St. John, N.B. Canada.
Area inside red box is exploded and shown in the photo at left.
Irving Oil Limited and Repsol YPF, S.A. have formed a new partnership and together are developing the first LNG regassification plant in Canada.
It will supply natural gas to Canadian and American markets and will have an initial send-out capacity (or, the ability to distribute via pipeline) will be 28 million cubic meters (one billion cubic feet) of natural gas a day.
LNG, short for liquefied natural gas, is the liquid form of natural gas. Taken out of the ground as a gas, it is turned into a liquid by reducing temperature to -162 deg.C [-260 deg.F]. The liquification process reduces volume to approximately 1/600th of its original volume making transport and storage possible.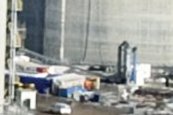 Incon I-22 Portable Perlite Expansion System, 9.7M [32'] tall.
LNG can be kept at normal atmospheric pressures provided the low temperature is maintained. This requires storage in specially designed and insulated tanks. The storage tanks are constructed with a double wall. Expanded perlite is used for this demanding insulating application.
Because of the large volume or perlite required, the perlite is expanded on site.
The expansion process is carried out in a specially designed furnace where its volume increased 20 - 30 times. After expansion, the perlite is conveyed dense-phase to the tank where it fills the annulus.
At intervals during the filling, the perlite inside the annuls is vibrated. This accelerates settling of the perlite so that after filling, the insulation cavity remains full and provides good insulation.
When natural gas is needed, the liquified gas is warmed again until it returns to the gaseous state. It is then distributed to users in Canada and the US through pipelines.
---